As the new coronavirus continues to spread globally, and with some countries requiring masks to be worn in public places, interest in masks has been growing like never before.
In Japan, masks have been a familiar item from before, used when someone catches a cold or to prevent infections such as the flu, and as a measure for pollen allergies. With the spread of the new coronavirus, it has become more commonplace, and it has come to be regarded as a fashion item.
This time, we would like to introduce the trends of Japanese masks as new fashion.
There are four characteristics of Japanese household masks.
     1) Various types to meet user needs
     2) Abundant materials according to the season and user needs
     3) Evolving functionality
     4) Abundance of designs
(*Excludes medical masks and industrial masks)
1) Various types to meet user needs
In the past, gauze and non-woven masks were common, but now there are various types and shapes such as washable masks, cold masks, warm masks, sports masks, masks that reduce ear pain when worn, round-cut masks that make one's face look small, and masks that do not fog up one's glasses.
2) Abundant materials according to the season and user needs
Polyurethane, cotton, non-woven fabric, silk, mesh, gauze, latex, wool, linen, tweed, denim, wool, etc.
3) Evolving functionality
Products with functions according to the season and user needs such as cool, warm, washable, antibacterial, odor-resistant, deodorizing, breathable, dust, pollen, PM2.5 filter, 99% virus droplet removal, static electricity prevention, humidity control, and UV protection, are appearing one after another.
4) Abundance of designs
From children to adults, fashionable and unique masks are available, such as masks with prints or embroidery, as well as branded masks.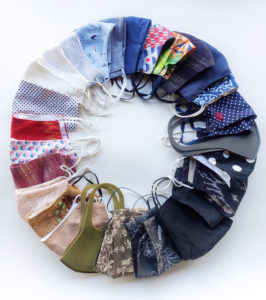 Also, pattern masks and handmade masks are also quite typical Japanese.
Japanese pattern masks
Japanese pattern masks became a hot topic when a kimono shop started making them from kimono and yukata fabric that are worn during the summer.
Not only is it beautiful to look at, but the yukata fabric is also highly breathable and has been well received for not being stuffy even in the hot summer months.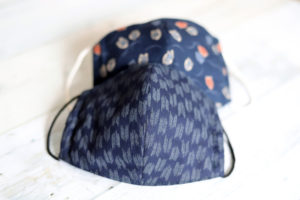 Handmade masks
More and more people are making masks using tenugui (hand towels) and their favorite cloths.
There are many videos on social media that show how to make handmade masks, and you can download patterns for free.
In Japan, students learn sewing in their elementary school home economics class, so that may have led to the idea of "Let's make it ourselves if we can't buy it."
Handmade masks were also talked about in the media because they were worn by politicians and governors in public office.
Even in the tense atmosphere caused by the spread of the infection, wearing lace masks or fashionable masks can help not only yourself feel more relaxed, but also those around you.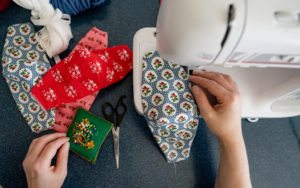 Japanese masks are not only preventing the spread of droplets, but are evolving with the addition of functionality and design. Why not go look for your favorite mask too?

Explore your favorite Japan!

-----------------------------------------------------

[Reference]

http://www.jhpia.or.jp/product/mask/index.html

https://www.itmedia.co.jp/fav/articles/2009/09/news148.html#3