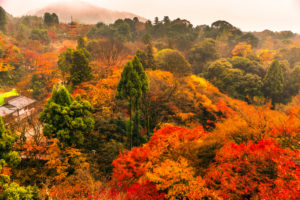 An important part of Japanese culture is the act of enjoying the changes that come with the seasons, by admiring seasonal flowers and trees, such as cherry blossoms in spring and maple leaves in autumn. In particular, the "autumn leaves" of deciduous trees in the mountains and valleys that change their colors to red, yellow and orange are strongly embedded in Japanese tradition and are said to be the most beautiful in the world due to their variety.
Going out and admiring the autumn leaves is called "Momiji-gari" in Japanese (literally "hunting for autumn leaves"). There are various theories about the origin of this word, but the meaning of the word "gari" ("hunting") gradually to also include "venturing into nature to pick wildflowers and fruits". Eventually, the meaning of appreciating flowers and autumn leaves was adopted too. Peak "Momiji-gari" season is about to start here in Japan. Here are some spots to enjoy in the suburbs of Tokyo.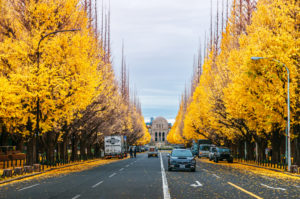 Momiji-gari Spots to Enjoy in Tokyo #1: Meiji Jingu Gaien
A spot to enjoy autumn leaves even in the heart of the city. Here the leaves come from the ginkgo trees lined up on either side of the street, which leads to the Meiji Memorial Picture Gallery. This spectacular sight is said to be the symbol of the path from Aoyama-dori to Meiji Jingu Gaien.
You can also see the ginkgo leaves falling and the streets appearing to be covered with a golden carpet.
After enjoying a stroll through the rows of ginkgo trees, we recommend experiencing Japanese art at the Meiji Memorial Picture Gallery.
The best time to visit is from mid-November to early December.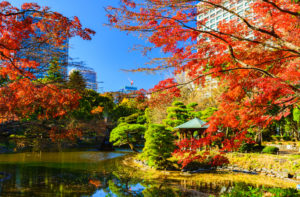 Momiji-gari Spots to Enjoy in Tokyo #2: Hibiya Park
A park located in the center of Tokyo, on the south side of the Imperial Palace. The park is lush with fountains and ponds, making it an oasis for busy business people in the city center. Among them, the maple trees and ginkgo trees around Kumogata Pond are very beautiful in combination with the calm water, creating a sight that you can gaze at for hours. We recommend visiting the next time you're in Tokyo. The best time to visit is from late November to early December.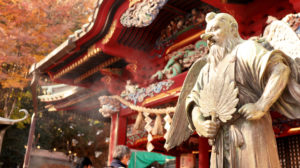 Momiji-gari Spots to Enjoy in Tokyo #3: Mt. Takao

Mt. Takao can be reached from the city by train in about an hour, and was introduced in the Michelin Guide, becoming a popular destination for foreign tourists. You can enjoy the autumn colors all over Mt. Takao, but the maple trees around the gondola, Yakuouin Temple area, and the summit are especially beautiful. There are hiking trails that beginners can also enjoy, so why not enjoy the rich path of autumn leaves while making your way up. When visiting, please wear shoes and clothes suitable for hiking.
The best time to visit is from mid to late November.

In addition to the spots introduced here, there are many beautiful "Momiji-gari" spots in Tokyo that are easy to get to can be found close-by in the city.

Let's enjoy this Japanese autumn tradition by going out for some "Momiji-gari"!

Explore your favorite Japan!

------------------------------------------------------------------------

[References]

http://www.meijijingugaien.jp/english/seitoku-gallery.html

https://www.tokyo-park.or.jp/park/format/index037.html#googtrans(en)

https://koyo.walkerplus.com/detail/ar0313e13090/

https://boxil.jp/beyond/a5593/#5593-6

http://gogen-allguide.com/mo/momijigari.html

https://www.weblio.jp/content/%E7%8B%A9%E3%82%8A