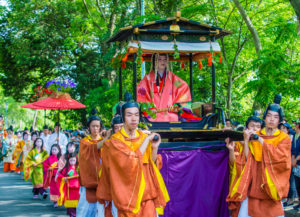 Typical Japanese festivals consist of Shinto rituals to pray to and thank the gods for good harvests. They are characterized by processions of portable shrines and floats. These festivities, unique to Japan, highlight the four seasons by highlighting their characteristics throughout the year.
Each festival held in spring, summer, fall and winter is closely related to Japanese daily life, which has traditionally been linked to farming. While their shape has changed over the years, their deeper meaning has been passed down to modern times. Popular festivals in recent years include the spring "Aoi Festival," the summer "Aomori Nebuta Festival," the fall "Jidai Festival" and the winter "Sapporo Snow Festival."
We will now introduce the "Aoi Festival" and the "Aomori Nebuta Festival."
Aoi Festival
The Aoi Festival was originally called the "Kamo Festival." It is said to have started approximately 1,500 years ago at the Kamigamo and Shimogamo Shrines. It is known as the oldest festival in Kyoto. The name "Aoi Festival" has its origin in the bamboo blinds, ox carts (so-called "gosho" carts), and in the traditional clothes of imperial messengers and servants, all of which are covered with Aoi (wild ginger) leaves during the main "Roadside Ceremony" event.
A variety of preliminary events, such as the "Kamokurabe Uma Ashisoroeshiki," the "Yabusame Shinji" and the "Saioudai Niyoninretsu Misogishinji" are held at the beginning of May, with the main "Roadside Ceremony" held on May 15th, every year.
The highlight of the festival, the "Roadside Ceremony" recreates the journey of the Emperor's messenger to both the Shimogamo and Kamigamo shrines. The procession, which stretches for a kilometer, features over 500 people, including the litter of the shrine maiden called "Saiodai." "Saiodai," the heroine of the festival, wears a gorgeous, attention-grabbing costume called "Itsutsugi Numono Karaginu," which weighs a total of 20kg! In this "Roadside Ceremony" it is not just Saiodai, but also all the other participants who impersonate official positions who are dressed in appropriate Heian period costumes, throughout the 8km covered by the procession. The whole sight is both majestic and graceful.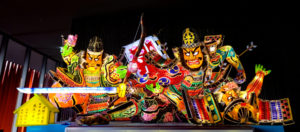 Aomori Nebuta Festival

The Nebuta Festival is the largest fire festival in Japan. It was designated as an important intangible folk cultural property of Japan in 1980, and is one of the major festivals of the Tohoku region.

The "Nebuta," a major feature of this festival, refer to decorative dolls representing legendary figures and creatures. The pillars that hold them up are made of square timber, with their shapes formed using wire, bamboo and thread. They are then covered with paper or cloth and their outline delineated using ink, with the final details added using brightly-colored dyes and water-based pigments. Originally dolls that worked as lanterns, today they can contain over 1,000 lightbulbs, and are installed on floats carrying 40 to 50 people. The largest ones have a width of about 9m, a height of about 5m, a depth of about 8m, and weigh about 4 tons.

A large number of towers, drummers and other musicians, as well as "Haneto," which are dancers wearing yukata and flower hats ride on top of these huge Nebuta, yelling out the call of, "Rassera! Rassera!" as they parade through town. Visitors are often overwhelmed by the festival's dynamism and the enthusiasm of all its participants.

Explore your favorite Japan!

-----------------------------------------------------

[Reference]

https://ja.kyoto.travel/event/major/aoi/

https://wa-gokoro.jp/event/japanese-festival/542/

https://souda-kyoto.jp/travel/saijiki/aoi.html

https://www.airtrip.jp/travel-column/20154

https://japan-web-magazine.com/japanese/japan-aomori-nebuta-festival1-japanese.html