Consult Your Local Bunka Gakuen Office About Our School, Admission Procedures, And Other Related Matters.
Overseas Office
The Taipei, Seoul and Bangkok offices will act as a coordinator between B.I.L. in Tokyo, and you and your family from the time you consult about admission to the day you graduate from B.I.L. as follows.
Give counseling about admission procedures
Accept application forms
Give entrance examinations for Japanese Language Teacher Training Course and Business Japanese Interpreting Course
Accept application for school guarantor
Assist you in applying for Certificate of Eligibility
Give pre-admission placement test
Give orientation before going to Japan
Guide you to Japan
Assist you at the time of entry into Japan and while studying at B.I.L.
Follow-up after graduation
Consult your Local Bunka Gakuen Office About Our School,
Admission Procedures, And Other Related Matters.
The applicant has to find a guarantor in Japan to enter B.I.L. For Taiwanese, Korean and Thai applicants, B.I.L. will become their guarantor, upon request to B.I.L.'s Taipei Office, Seoul Office and Bangkok Office respectively. These three offices are operated directly by the school, Bunka Gakuen, you can study comfortably.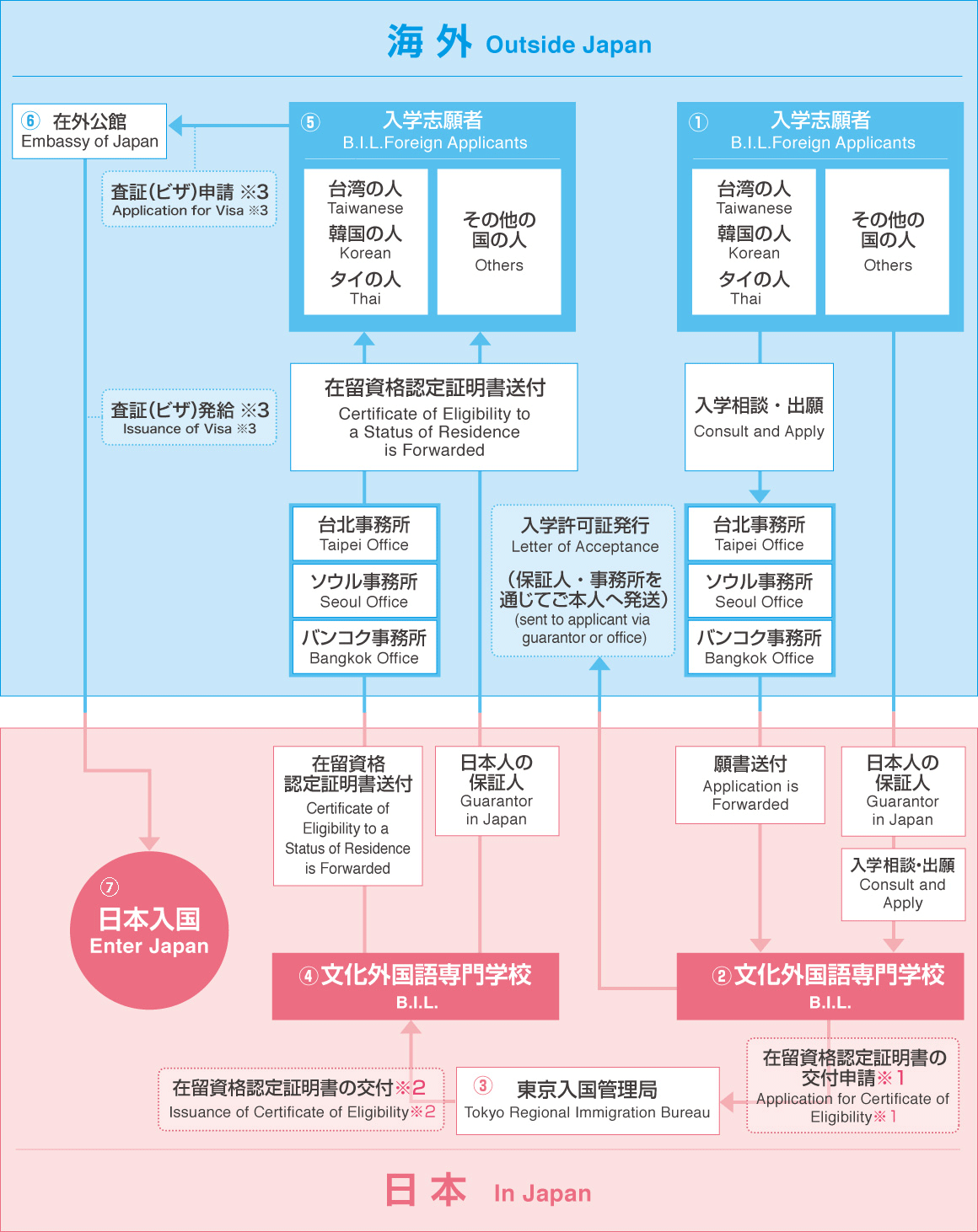 COE = Certificate of Eligibility for Residence Status as Student.
※1 Application for COE
To come to B.I.L. as an international student, a student visa is necessary. To obtain the student visa,you need a COE for Residence Status as Student issued by the Ministry of Justice. We will apply for the COE at the Tokyo Regional Immigration Bureau on behalf of B.I.L. applicants. COE will be issued once your application is approved by the bureau.
※2 Issuance of the COE
B.I.L. will give you the result of the application for COE as soon as the lmmigration Bureau notifies us.
※3 Application and Issuance of Visa
Once you receive the COE, you should prepare necessary documents and apply for a student visa, and have your visa issued.
Overseas Office
Taipei Office
4F-9, No. 57, Sec. 1, Chongqing S. Rd., Zhongzheng Dist., Taipei City 10045, Taiwan
Access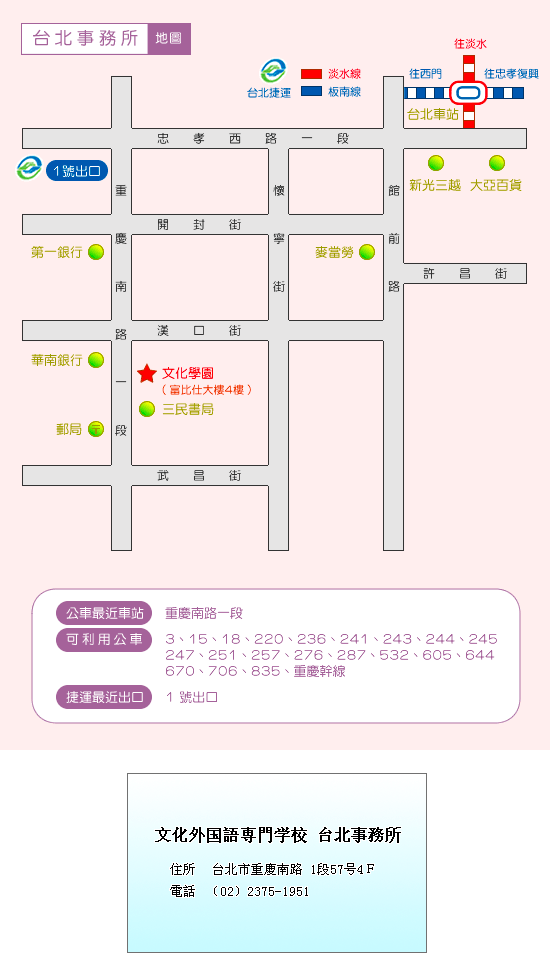 ---
---
Contact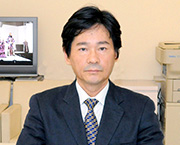 Seoul Office
서울시 종로구 삼일대로 461 102 동 204-1호 0314 
Access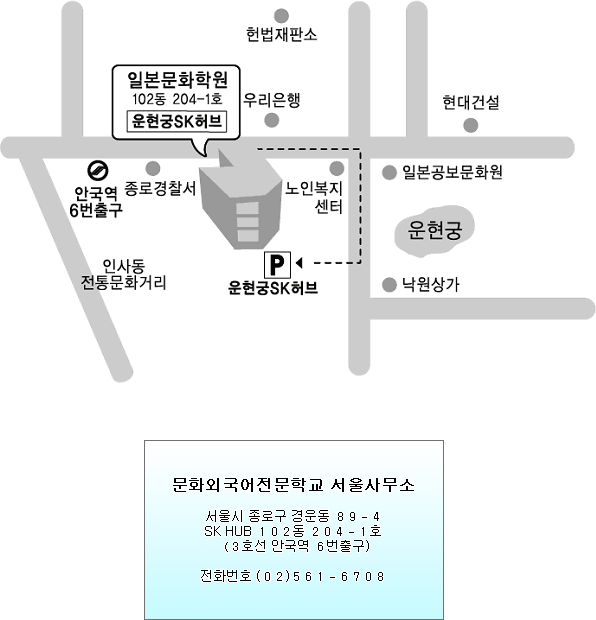 ---
---
---
Contact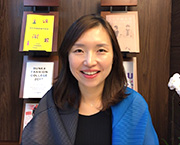 Bangkok office
90 Soi Ekamai 12, Sukhumvit 63 Road, Klongton Nua, Wattana, Bangkok 10110, Thailand. 
Access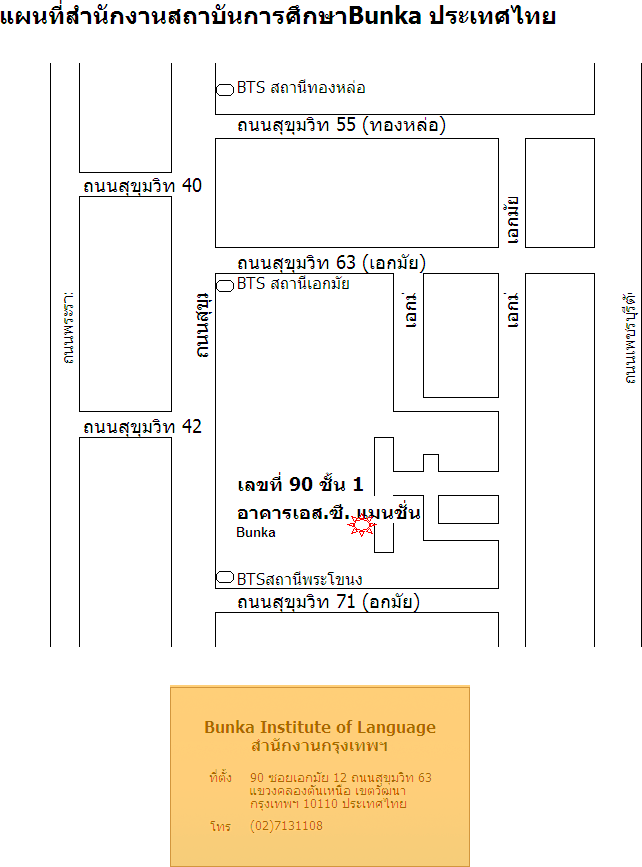 ---
SUTATIP CHAROENNIBHONVANICH
---
Contact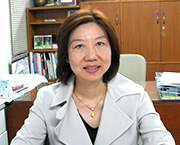 Inquiries within France
Paris Office
8, Rue de Marignan, 75008 Paris, France
---
---
Contact
For consultations within China
TIANJIN YU KAI CULTURAL COMMUNICATION CO.LTD
D-1803, Artists Apartment, No.389 Binshui West Road, Xiqing District, Tianjin, China
---
---
---
Contact
BEIJING OVERSEAS EDUCATION CONSULTING & SERVICE CO.LTD
中国北京市朝阳区永安东里甲3号院1号楼德润大厦6层
---
---
---
Contact
ONECC INTERNATIONAL GROUP CO., LTD.
2-36-73 Kumegawa-cho, Higashimurayama-shi, Tokyo, 189-0003
---
---
Contact
Study-abroad service center in Indonesia
PT. JELLYFISH EDUCATION INDONESIA
Head Office / Tangerang Serpong Branch - Komplek Ruko Fluorite No. 77, Gading Serpong, Tangerang, Banten 15810
Jakarta Branch / Office 88 Tower A 26F, Kota Kasablanka
Jl. Casablanca Raya Kav. 88, RT.16/RW.5, Menteng Dalam, Tebet, Jakarta Selatan, 12870 Indonesia
---
Contact
※There may be fees at Beijing and Indonesia offices. Please contact directly to the agencies for more information.