"Message from the President"
Gather! Citizens of the Earth
All of us who live on this planet are "Citizens of the Earth."
There are three main important endeavors for Citizens of the Earth: first, to protect the precious lives of others; second, to have humility born out of the understanding that our lives are sustained by nature; and third, to develop communication skills in order to understand other people wherever they may come from in the world.
For 41 years while I was working as an NHK broadcaster, I searched for the kind of Japanese that would touch people's hearts. I always wondered if the Japanese I used could really be a good example, especially for those international students who have come to Japan from overseas and are trying to learn Japanese through the medium of TV or radio.
The Bunka Institute of Language has an excellent location, being situated in the center of the international city of Tokyo. It can boast of a class-based advisory system run by full-time faculty staff, course books and course materials that have been uniquely developed, a student support service provided by experienced staff, and fully-equipped student houses. In addition, it has an academic environment where international students can comfortably partake in international student life.
I hope that all of our international students build a good foundation as Citizens of the Earth and become active across the globe.
学校長

---
The Bunka Institute of Language is part of Bunka Gakuen, an educational foundation with a long history and a solid educational infrastructure.
Japanese language learning through communication with people from other cultures
The main characteristics of language learning at the Bunka Institute of Language lie in its learning environment. The institute uses a homeroom system, so students spend a lot of time together with one teacher. Students interact and learn together with classmates from a range of different countries. They can enjoy camping trips amid Japan's abundant nature, together with fellow students, teachers, and institute staff. All students participate in school events and festivals. As well as Japanese language ability, all of these things help craft superior communication ability and a wealth of multicultural experience. After graduation, our students go down a range of different paths—some continue to further education, some find employment, some return to their home countries—but they all take away with them a confidence fostered here at B.I.L.
We collaborate with the three other schools at Bunka Gakuen
Bunka Gakuen University offers study in fields including fashion, design, interior design, tourism, and psychology. Bunka Fashion College, a vocational college, and Bunka Fashion Graduate University are two of the best-known fashion education institutes in Japan. Students studying at the Bunka Institute of Language can also take exams in order to go on to study at any of the schools within Bunka Gakuen.
Features of B.I.L.
Japanese language education at BIL is based on a curriculum using BIL's original textbooks, and classes are divided according to the Japanese ability of each student. Full-time teachers who teach as qualified Japanese language teachers are also assigned to each class as a homeroom teacher. They offer academic advice and give individual counseling on the personal problems of the students.
Student houses directly managed by BIL are available, so students can lead a comfortable life in Japan.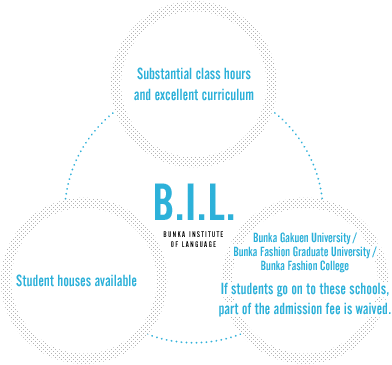 The History of Bunka Gakuen
April 1919
"The Namiki Women's and Children's Dressmaking Store," the predecessor of the Educational Foundation Bunka Gakuen, and "the Women's and Children's Dressmaking School" established.
June 1922
"Bunka Sewing School" opened.
June 1923
School name changed to "Bunka Sewing School for Women."
October 1936
School name changed to "Bunka Fashion College."
April 1950
"Bunka Women's Junior College" established. (Predecessor of "Bunka Gakuen University Junior College")
April 1964
"Bunka Women's University" opened. (Predecessor of "Bunka Gakuen University")
April 1980
"Bunka Institute of Language" opened.
Started with three courses: English Language Program, Japanese Language Program, and French Language Program.
March 1981
School flag design adopted.
December 1981
School badge design adopted.
October 1982
The Japanese Language Program certified as the first institute to be chosen by the Ministry of Education, Culture, Sports, Science and Technology as a Japanese language school for government-sponsored students going on to vocational colleges. Welcomed 14 government-sponsored students from Thailand, South Korea, Fiji, Palau and Papua New Guinea.
April 1984
Reorganized to three courses: English Course (Communication Course, Business Course), Higher Intensive English Course, and Japanese Course.
April 1986
Reorganized to Japanese Department with three courses: College Preparatory Course, Japanese Language Teacher Training Course, and Business Course.
April 1988
Japanese Department restructured into Japanese Course, Japanese Language Teacher Training Course, and Business Japanese Course.
Reorganized English Course and Higher Intensive English Course to English Department with four courses: English Course, Business English Course, International Secretary Course, and Higher Intensive English Course.
April 1990
Reorganized Japanese Course and Business Japanese Course in Japanese Department into College Preparatory Course and Business Course in Japanese Department.
March 1998
New school building completed.
April 2006
English Course, Business English Course, International Secretary Course, English Extended Program and Business Course merged, and became International Interpretation/Translation Course (English, Japanese-Chinese, and Japanese-Korean Interpreter/Translator Training Courses).
"Bunka Fashion Graduate University" opened.
April 2014
Business Japanese Interpretation Course newly established.
April 2017
International Interpretation/Translation Course abolished.
Reorganized as Japanese Language Course, Japanese Language Teacher Training Course, Business Japanese Interpretation Course.
May 2017
Japanese Language Teacher Training Course accepted by the Japanese Agency for Cultural Affairs as "appropriate training for Japanese language teaching staff."